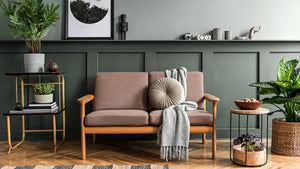 Interior Colour Trends We're Predicting for 2022
As soon as a new year arrives - full of possibilities - interior trends are always a popular topic. At this time of year, it may be cold, damp and chilly but fresh inspiration from the light and airy colours of spring is just around the corner.
Read on as we look at seven interior colour trends we're predicting for 2022…
Where to use on-trend colours?
When it comes to interior trends for the new year, colours for walls, ceilings and woodwork are often the main focus. However, small changes are sometimes all that is needed to freshen things up and give your interiors a new twist.
If you're renting and limited in scope, short on time or just want to keep costs to a minimum, simply painting an existing piece of furniture or a single wall may do the trick. In some cases, half a wall might even suffice – take a look at our post on half and half walls for a little inspiration!
Now, without further ado, let's take a look at those all-important colours…
Greens
Prepare for a green revolution in 2022, with greens to be seen everywhere. Chirpy, characterful greens can be used to brighten up a blank canvas, as with this unique revamping of a wardrobe and chest of drawers using Apple of my Eye and Wise Old Sage.
But who says green can't be vintage or dramatic? Green with Envy is the perfect shade for a bit of a retro feel…
And as for drama, check out Black Forest, an almost black twist on the green trend, which is ideal for adding a distinguished statement to any living space.
Yellows
Yellow is another shade that we expect to pop up more in the new year, especially shades with ochre or brown underpinnings, like Hot as Mustard.
These warm, earthy shades are fabulous for adding a grown-up pop of colour to accents within your design, such as doors, which can be continued onto smaller features such as a side table or bed frame for a cohesive look…
Greys
Grey is holding its own. While some predicted the demise of grey and assumed beige would take over, the continued use of different greys throughout the home has proved that this is simply not the case. That's partly down to the colour's adaptability and variety.
Charcoal shades like Smudge and even deeper off-black tones like Panther are on the rise thanks to the drama they add. On the flipside, there are new, nuanced pale greys such as Stormy with its delightful lilac undertones.
You can go even more subtle with a colour like adaptable Duckling, a duck-egg toned blue with muted grey underpinnings.
Purples
When a trend appears on the catwalk, it almost always makes its way into interiors. That's certainly expected with purple, with hints of lavender, lilac and mauve on the horizon.
With purple, you can opt for rich and warm with beautifully mauve Velvet Crush, or Moody Blue for lavender undertones. Or go light and fresh with Parma Violet, perfect for updating your kitchen, bathroom, front door or just about anywhere.
Metallics
What about metallics? Also trending on designer catwalks, we expect a wide range of metallics to pop up inside homes, from gold and blush copper to pearly silver. Cleverly and subtly used, they can transform almost any interior setting without stepping into maximalism!
Think door knobs, drawer handles, or the ornamental detailing or even the legs of your furniture, which can be reimagined using Frensheen in Gorgeous Gold or Cool Copper mixed with our Finishing Coat or Tuff Top Coat to create a metallic paint.
Check out the brand new pearly and lustrous metallic Frenshimmers for more options too! 
Neutral and natural
Neutral and natural colours are going nowhere, and earthy beige is on the up. Combining a soft taupe shade like Stone in Love with bold accents like Blackjack is a brilliant way to pair two neutrals together.
Allied to this, natural wood is having a renaissance. Wood panelling looks great on walls, but you can also think creatively about refinishing wood furniture to embrace the trend. Clean it up, revive it with wax or revamp it! A popular treatment for pre-loved sideboards is to sand back the top and add a practical, hard-wearing top coat, then paint the body of the unit in a favourite shade.
Or add White Wax to your table-top for a lovely 'limed' look, and provide contrast by painting the table legs and chairs in your favourite colour, for a stunning dining room update – as shown here in this fab dining table makeover using Hornblower.
Deep or jewel colours
Neutral not your thing? Pair your wood with deep or jewel colours like After Midnight, Victory Lane or Loof. Offset with contrasting white walls or ornaments to complete the look.
Or go part way, revamping a piece of wood furniture by painting certain parts, whilst leaving the original wood showing through at others. That's demonstrated below, with a delightful contrast of light pine against bold Blackjack. But it would look equally fabulous with a navy blue like Hornblower or inky blue such as Smooth Operator.
Choosing your favourite interior colour trends
From interior paint colour trends for 2022 to small accents using waxes and top coats, there are plenty of ways you can keep your home looking beautiful and on-trend over the coming year.
At Frenchic, we provide high-quality chalk paint in a variety of colours for your furniture, walls and beyond. From our traditional style chalk paint Original Artisan Range – ideal for the shabby chic look – to an array of self-sealing ranges like The Lazy Range, Al Fresco inside/outside range and Chalk Wall Paint.
Browse our full collection online today
to find the colours that get your heart racing for 2022.