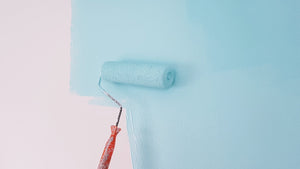 Can I Paint My Ceiling Darker than the Walls?
Ceilings are often overlooked when it comes to decorating. However, their appearance can have a significant effect on the overall look of the room. In many cases, that means using a clean white to keep things looking fresh. That said, more and more people have started to ask, 'can I have a darker ceiling than walls?'
Whether you are moving into a new property that needs some work, or you've decided to redecorate your current home, the answer to this question could have a big impact on the end results of your decorating efforts. Whatever size room you are redecorating, the colour you choose for the ceiling can help transform it into a completely different kind of space – whether you want a snug, intimate feel or something with more dramatic flair.
If painting your ceilings darker is something you've never considered, or if you've been longing to give your ceilings a fresh lick of paint for a while, but you're not sure of the impact of having a darker ceiling than walls, read on for some helpful tips. While it may seem like quite a bold design choice, painting your ceilings darker can have a number of advantages!
Keeping your décor contemporary
Traditionally, ceilings have been painted either white or the same colour as the walls. But that time-honoured trend has begun to change in recent years. Darker ceilings are now officially in vogue, with more and more people favouring a statement ceiling to bring their home a more striking, contemporary look.
If keeping up with the latest trends when it comes to home decor is important to you, then maybe it's time to take a paintbrush to your own ceilings and embrace the dark side! Darker painted ceilings can add new depth and dimension to your home, and they are sure to provide a talking point whenever you have guests over.
Darker ceilings for small spaces
If you're redecorating a smaller room, or a space with limited natural light, you may be concerned that having a darker ceiling than the walls will make the room feel a bit too gloomy. While this is certainly true for many shades, such as darker blues or reds, there are a few colours which can still work well on the ceilings of small or under-lit rooms. Some hues can even make the room feel bigger.
For an intimate and inviting atmosphere, choose warm shades with undertones of red or pink for your ceiling. These rosy hues can soften and brighten up a small space. In fact, painting your ceilings a soft red or pink to off-set paler walls can help give a smaller or poorly lit space a snug and cosy feel.
Accentuating your ceiling with some matching pink or red decor, such as curtains, cushions and rugs, will complete the transformation, and make your small room into a cheery and relaxing space that you'd love to curl up in on long winter evenings. 
Add drama to large spaces
If you're not afraid of adding some dramatic flair to your home, why not redecorate one of your larger and more airy rooms by painting the ceilings darker? You could even repaint the ceiling of a long hallway, if you have one. After all, the bigger the ceiling, the bolder the effect will be, creating a stunning style statement that is sure to impress your visitors.
To go the whole hog, daub your ceilings in one of our richer paint colours, such as Gentlemen's Club. A sleek dark grey with velvety blue undertones, this intensely stylish paint choice will add both drama and sophistication to your hallway or another spacious room. Accessorise with grey or silver decor for a modern look that will radiate effortless chic.
Eager to add some character to your home while still treading cautiously with those darker hues? You can make the contrast more subtle by choosing white walls and a gentler grey for the ceiling, such as Moon Whispers. This luxurious pale grey will off-set the snowy walls without creating too much drama. In fact, its soft silver shade can help a large space feel even lighter and airier.
Accentuate your ceiling's best features
Another benefit of painting ceilings darker than walls comes for your cornices. These ornate features can become the crowning glory of your décor with a bit of thought and creativity. Choosing bolder hues will add contrast and draw the eye towards the features you want to emphasise.
If you really want to draw attention, consider painting all the way down to the picture rail. Using the same colour on the ceiling and the top portion of your wall will really emphasise the detail of your cornices.
Redecorate your ceilings today
As you can see, there are a number of advantages to taking the plunge and opting for darker ceilings. Not only will they make your home look instantly more modern and sophisticated, they can also enhance various decorative features, and even transform the feel of an entire room or hallway.
To find the perfect darker shade for your ceiling, check out our jewel box of award-winning wall paint options and you're sure to find the right shade to suit your space. You can also read our helpful tips on choosing the right shades for specific rooms to make sure you get the perfect fit for your home.