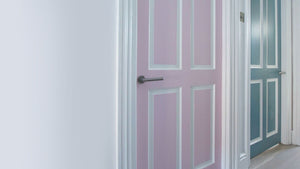 Should Door Colour Match the Trim or Wall?
Many people regard doors merely as a necessary means of separating one room from another, with no real potential when it comes to decorating. It's time to shake up that perception! The way you choose to paint your doors can have a real impact on the overall look and feel of a particular room or space. In fact, you could go so far as to say that doors have a lot of potential for adding some eye-catching glamour and contrast to a room if you paint them in a certain colour.
As a result, if you find yourself asking the question "Should my doors match the trim or wall?", the answer all depends on what kind of effect you would like to go for! There is no right or wrong answer, it all comes down to the particular decor and atmosphere you would like to create. 
Here at Frenchic we are always eager to assist you with painting and decorating advice, so read on for some expert tips on painting your doors, trim and walls to create a spectacular effect that will really help bring your home to life.
Make your doors stand out – for the right reasons
If you have doors that you want to draw attention to for any particular reason, then painting them a different colour to the walls is the perfect way to make them eye-catching. In fact, painting your doors and trim the same colour – but different to the colour of the walls – is guaranteed to make them 'pop', emphasising their gorgeous style. And guess what? Painting doors and trim the same hue will actually make your doors look larger, maximising the effect of your decorating.
To create a truly bold contrast, you can opt to paint your doors and trim a colour that is on the complete opposite end of the spectrum to your walls. For example, black against white, or vice versa. However, if this feels a little too bold for you, there are ways to create the same feel using deeper colours that are more forgiving than a true black. For instance, if you have paler walls, why not try a gorgeous shade of inky or midnight blue for your doors and trims, such as rich Smooth Operator, charcoal Smudge or deeply dark green Black Forest?
These strong but nuanced tones are perfect for adding great contrast and drama whilst allowing you opportunities to include tones that blend with what you already have in the room.
Of course, if you decide you do want to go the whole hog and create a full-on bold, sassy and dramatic space, there are ways to achieve this effect while retaining a cohesive but characterful feel. For instance, you can opt for stunning jewel-coloured walls, such as candy-sweet Bon Bon, paired with darkly alluring doors and trims that offer just the right amount of drama in a deep grey like Greyhound or Gentlemen's Club.
Painting your doors for a subtle contrast that enhances special features
If you would prefer to leave the drama for someone else and instead opt for a more traditional style that gives your rooms a classy feel, how about painting your doors and trim a subtly different shade to the walls? Choosing the right tones can help you create a soft, soothing and magical feel that is just perfect for any room in your house, but works particularly well for bedrooms or nurseries.  
Need a little inspiration? How about painting the walls in a gorgeous, palest grey ethereal shade such as Moon Whispers, and accenting the doors and trim with the glossy Whiter than White trim paint for a subtle tonal contrast or switch it up with white walls and neutral trims?
These soft, clean shades will help create a classic look that promotes relaxation and will help your family feel right at home. What's more, with their low VOC content and impressive scuff-resistance, these tones will work perfectly even if you have young kids with sticky fingers and muddy boots!
When it comes to decorating your lounge, or perhaps a nursery or child's bedroom, another great colour combination is gentle shades of pink. For instance, you could paint the walls with delicate pink Sweetcheeks. With a subtle salmon undertone, the shade is both practical and effortlessly chic, and will work perfectly when paired with the deeper hue of vintage pink like Last Dance. Add this luxurious muted pink, with its beige underpinnings, to the doors and other woodwork in the room for a gentle contrast that will brighten up a darker room, or make a large space feel a little more interesting.
Using these subtle tonal differences provided by Trim Paint also happens to be a great way to enhance particular features of a room. So, if you have some gorgeous period accents, use this style of decor to draw attention to them.
Take inspiration from nature and create a beautiful botanical space
Bringing the outdoors inside has a range of benefits for our mental and physical wellbeing, including reducing stress and anxiety, and improving concentration. To tap into these health benefits using your decor, how about creating some stunning botanical-inspired contrasts, using shades that emulate the great outdoors?
As an example, you could decorate the walls of your lounge using a crisp white wall paint, and then paint the doors and trim with a glorious nature-inspired shade of green. The rich jewel shade of Victory Lane is perfect for creating a bold, botanical feel. But if you want something a little more muted, how about plumping for soft, light-hearted and nature-inspired Green with Envy or classic and subtle Wise Old Sage? 
On the other hand, you may want to go for a particularly bold, jungle-like atmosphere, in which case we have the perfect hue for you: Black Forest! This rich, velvety shade will be perfect for creating that dark and brooding botanical feel, with just the right amount of drama.
Enhance that all-natural feel with some vibrant gold accents and alluring earthen tones, and be sure to bring plenty of beautiful plant life into the room – from small kalanchoe, with their delicate flowers in a variety of attractive shades, all the way through to large and eye-catching monstera or perhaps a dramatic snake plant or two. You can even add some gorgeous hanging planters with artfully trailing fronds, to create your very own indoor bower that Queen Titania herself would envy.
Matching your doors, trims and walls
Whatever look you end up going for – whether soft and classy, or bold and eye-catching – Frenchic offers a stunning range of chalk wall paint and trim paints to help you create the perfect look and feel. With minimal VOCs and effortless application, you can match your doors to the trim or wall space around them without the hassle.