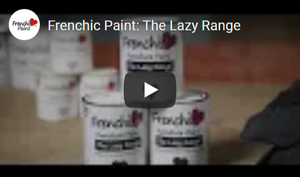 An Introduction to Frenchic's Lazy Range
An Introduction to Frenchic's Lazy Range
If you are planning to refresh your kitchen with a new colour or just revamp your favourite pieces of furniture, why not opt for a paint that delivers a creamy professional finish without any hassle? Introducing The Lazy Range!
Painting made simple
With a unique wax infusion, our innovative collection of chalk and mineral paints promises high-quality results without any extra effort. With self-priming and self-levelling qualities, you get superb coverage with little or no brush marks. The Lazy Range has also scooped a Queen's Award for Innovation as the first chalk and mineral paint that doesn't require any sealing.
There are 18 eye-catching colours to choose from in The Lazy Range, including the warm and inviting pink and beige confection, Nougat, the rich and juicy purple of Plum Pudding, and the versatile Moody Blue, which can look either bright or brooding depending on what you choose to pair it with.
Safe and easy to use
As with all of our Frenchic paints, The Lazy Range has minimal VOC content, and has been painstakingly tested to achieve UKCA and EN71-3 certification. This means it is safe to be used on your children's toys, making it the perfect choice to update your nursery furniture. Thanks to its water resistance and durability, it is also a suitable option for kitchens in need of a freshen-up.
As the name suggests, The Lazy Range is a no-fuss, hassle-free collection which is both touch-dry and ready for recoating after just 1 hour. Ready to get started? Take a look at our Lazy Range online.