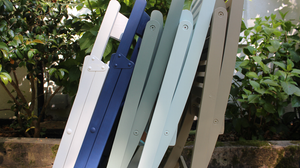 You Asked, We Listened: 5 New Additions to the Al Fresco Range
At Frenchic, we're passionate about providing the best paint for every project. Of course, that includes a choice of colours, so you can choose the perfect shade for your next piece.
That's why we're delighted to be adding five popular new colours to our Al Fresco range:
Hornblower

Little Duckle

Olivia

Steaming Green

Wedding Cake


Five familiar faces added to Al Fresco
While these five paints are new to Al Fresco, you might recognise the names and colours from our other paint ranges. Hornblower and Wedding Cake are also available in our self-sealing and self-priming Lazy Range, while Little Duckle, Olivia and Steaming Green have been matched from our Chalk Wall Paint and Trim Paint ranges.
As part of the Al Fresco range, all five of these stunning shades are now available with weather-resistance for outdoor use.
That includes resistance to both water and UV, so you can refresh or transform your outdoor furniture and fixtures with confidence. Not to mention the same self-priming and self-sealing qualities you get from the ranges mentioned above, to minimise preparation and aftercare.
Choosing our new additions!
Why have these five made the cut for the Al Fresco Range? It's simple.
Our wonderful customers have asked for more greens - and we've listened. We've added Little Duckle, Olivia and Steaming Green to the selection – each offering something different.
Olivia is a mid-toned brownish-green that oozes sophistication while Steaming Green is an easy-going deep green with a hint of heritage. On the other hand, the pale duck-egg green tones of Little Duckle are perfect for a wide range of styles.
Wedding Cake is a prim and proper off-white, which is a welcome addition to the Al Fresco range. It provides a softer alternative to a true white, which we're sure everyone will love.
As for Hornblower, this is one of our most popular colours for interior projects.. For as long as we can remember, customers have been asking for Hornblower in Al Fresco so they can also use it outside. So, there should be lots of people reading this with smiles on their faces!
Choose from 25 beautiful colours!
With summer in full swing, there's never been a better time to update your outdoor space. These five new additions mean that the Al Fresco range now has a permanent palette of 25 colours.
The Al Fresco range is specifically developed to transform indoor and garden furniture. Whether you're looking for a bold burst of colour, subtle pastel shade or the perfect neutral, you'll find it on our online shop or through your local stockist.