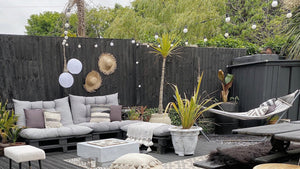 Picking the Right Colour Paint for your Garden Furniture
Painting your garden furniture is a quick and easy way to update your external space. Whether you're looking to brighten up your outdoor dining area or want to create a relaxing bolthole, paint can utterly transform your furniture (and your garden). But with so many different colours to choose from, how can you pick the right one for you?
If you're looking for the right colour paint for your garden furniture, we're here to help. At Frenchic, we stock more than 70 different shades of paint, from cool neutrals to bold jewel tones, with over 20 perfect for outdoor use. That means we know a thing or two about the best colours for your indoor and outdoor projects.
In this handy blog post, we'll reveal what the best paint for garden furniture is. We'll also guide you through a selection of different paint colours and shades, helping you decide the look you want to create in your garden.
What is the best paint for garden furniture?
The best paint for garden furniture shouldn't just look good – it also needs to be highly durable. Your garden furniture has to put up with a lot over the years, from changing seasons and extreme temperatures to rainstorms and sunshine. Over time, this can seriously limit the lifespan of your favourite pieces.
The elements wreak havoc on your furniture, causing it to 'weather'. This is a process that can leave your beautiful furniture looking worn-out and tired, with a grey or greenish tinge. In severe cases, your furniture can even become mouldy and unsafe to use. The solution? High-quality garden furniture paint!
Our weatherproof range of Al Fresco Inside/Outside chalk paint is perfect for interior and exterior use. Although it was specially formulated for use on wooden surfaces, it's just as ideal for alternative materials such as ceramic, uPVC and metal. That means you can use the same paint for all of your garden furniture, making it quick and easy to coordinate your look (or mix things up!).
Below, we've summed up some of the reasons why our Al Fresco paint is the best paint for your garden furniture:
Say goodbye to multiple products – Al Fresco is self-sealing, self-priming and self-levelling, so no faffy primer or top coat is required.

Water-based and eco-friendly with minimal VOCs.

EN 71-3 certified, meaning this paint is child-safe, so it's an excellent choice for painting playground equipment or garden toys.

Virtually odour-free, the Al Fresco range promises a superior coverage without that unpleasant, strong painty smell to factor into the bargain.

Because it's weather-proof, durable and resistant to harmful UV rays, Al Fresco paint can significantly extend the lifespan of your garden furniture.
What colour paint is right for me?
The right colour paint for your garden furniture will ultimately depend on your personal tastes. While some people like to keep things neutral, others prefer bold and beautiful shades that will make a statement or liven things up in their garden.
Whichever side of the (garden) fence you're on, we've put together a handy guide to some of our most popular Al Fresco shades.
Grey
If you've scrolled through Instagram or flicked through a homes and gardens magazine lately, you're bound to have noticed that grey is having a bit of a moment. This classic colour has been in vogue for some time – and thanks to its versatility, this chic shade isn't going anywhere soon.
But if you're tempted to bring this trend to your own backyard, which goes-with-everything grey should you choose? From the lovely lilac undertones of Stormy to the charcoal grey of Smudge, we've created a spectrum of grey shades that make it easy for you to find your favourite.
Pink
Millennial pink, soft rose, mink – whatever you like to call it, it's clear that Dusky Blush is bang on trend. This muted pink shade has transformed everything from our technology to our clothing and homewares, and at Frenchic, we think it looks just as beautiful in the great outdoors.
Dusky Blush will give your garden furniture a fresh, contemporary feel. It's also an easy way to embrace the popular pink and green colour combination, as you can take advantage of the natural greenery in your garden!
Classic neutrals
Neutral colours will never go out of style. Whether you want your garden furniture to look good whatever the weather, or simply want to provide a neutral backdrop to the colours that occur naturally in your garden, our Al Fresco range contains a selection of classic shades like Wise Old Sage or Duckling.
Dazzle Me! is a true, bright white (think idyllic picket fences). This paint will brighten up your garden without adding new colours into the mix – perfect for complementing styled flowerbeds.
Bold and beautiful
Are muted tones not your style? If you want your garden furniture to pack a punch, check out our selection of bold, beautiful colours. Steel Teal is a jewel-like blue that complements everything from mid-century to contemporary styles. For something a little bit deeper, Kiss Me Sloely is a rich, sloe berry blue that's bound to stand out in your garden.
Let's not forget the boldest shade of all – black. Blackjack is a delightful black paint for indoor and outdoor use that allows you to create stand-out furniture without overpowering other colours. The chic, dark shade also provides a delightful backdrop for green foliage.
If you're drawn to bold shades but feel a little apprehensive about using them inside your home, your garden furniture is the perfect place to experiment. Colour palettes are naturally more saturated outside, so while loud colours might seem a little overwhelming indoors, they'll look beautiful next to bright flowerbeds, lush lawns, and buzzing wildlife.
Find your perfect colour paint at Frenchic
Whether you're painting wood, plastic, or metal, our Al Fresco range is the perfect paint for your garden furniture. Available in more than 20 shades, this chalk paint is hard-wearing but easy to apply – meaning you can upgrade your garden in next to no time.
Come rain or shine, your garden furniture will be ready for anything with Al Fresco Inside/Outside paint! To find out more, check out our handy Frenchic TV video guides for information on priming, painting, and perfecting your garden furniture.
Or, if you're a real colour aficionado, read our list of the top 100 quotes about colour to inspire your outdoor painting projects.